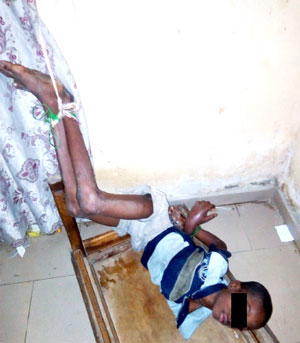 Even a animal in the forest, will not treat it's offspring like this. Tufia!
THE 13-year-old Tobi Segun, who was tied to a window by his father, has been discharged from hospital. Meanwhile, as soon as Vanguard's publication of the story hit the newsstand on Monday, the Police went after the suspect they initially released and charged him to court for his actions. The man,
Segun Austin Ojumola, a resident of Eruemukohwarien community in Ughelli North Local Government Area of Delta State, had tied his son, Tobi Segun, to a burglar-proof because a pastor told him that his son is a wizard.
Tobi, who has since been discharged from the Ughelli Central Hospital, suffered burns in the soles of his feet from a hot pressing iron. Though sources at the Ughelli 'A' Division Police Station denied that Mr. Segun was released after he was initially arrested by the Divisional Police Officer, Vanguard was reliably informed that the suspect was released on bail. The 13-year-old boy tied by his father to the window for three days after he was burnt by pressing iron.
Though efforts to reach the Delta State Police Public Relations Officer, DSP Andrew Aniamaka, for details of the incident was fruitless as at press time, an executive of the community, who applauded Vanguard for the report, said: "As soon as the Police saw the report, which exposed them as regards the release of the man, they (Police) came to the community, and re-arrested him. "Following his arrest, he was immediately charged to court and remanded at the Okere Prison, Warri."
Surprisingly, when Vanguard put a call through to his (Segun) mobile line yesterday evening, it was picked up by his wife, Mrs. Edijala Favour Segun, who confirmed the arrest and remand of her husband at the Okere Prison. Speaking in Pidgin English, she said: "Them don arrest my husband, carry am go Okere Prison. I dey Ughelli Police Station now and them wan still carry me go Okere today (yesterday). "Welfare people done carry all of the children. I no know which kind wahala be this." She meant: "They have arrested my husband and taken him to Okere Prison. I am at Ughelli Police Station as we speak, and they want to take me to Okere today. "Welfare officers have taken all the children away. I don't know what kind of problem this is."
-Vanguared